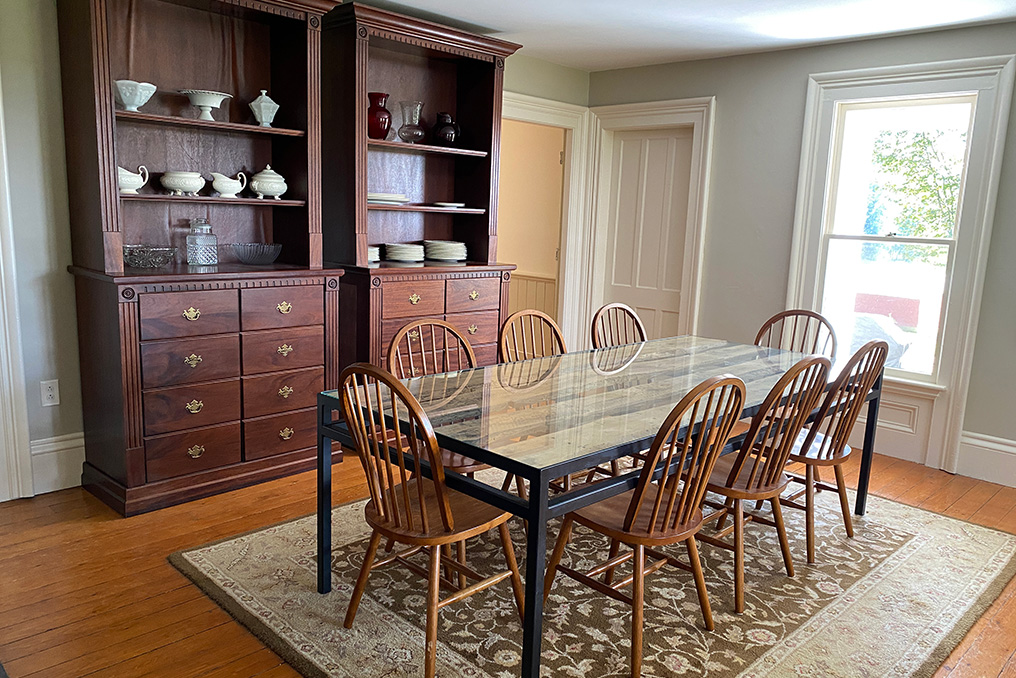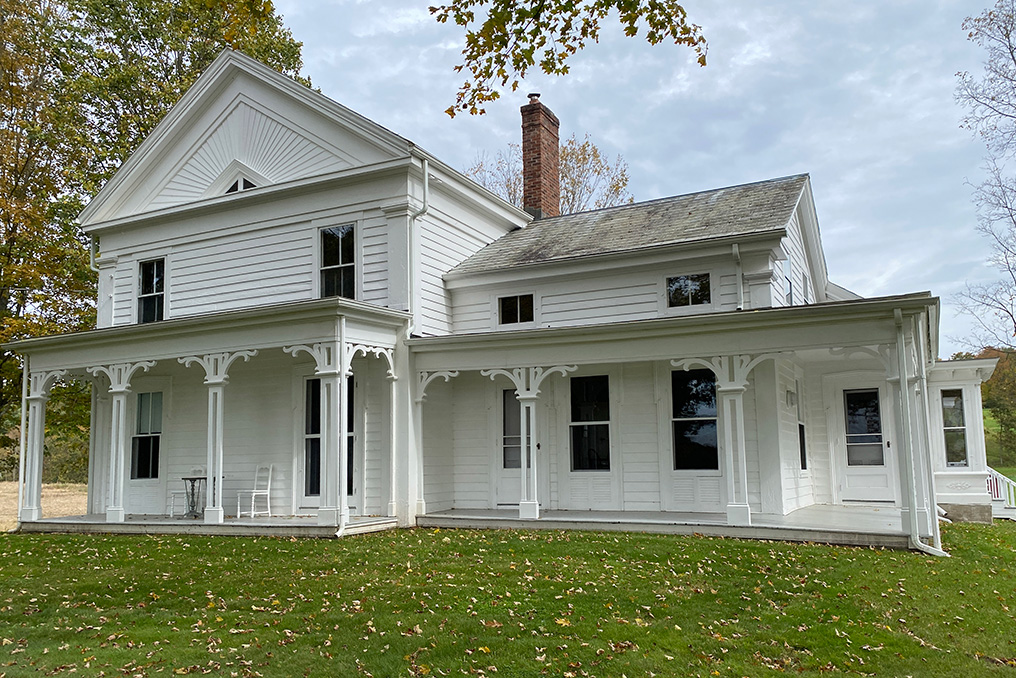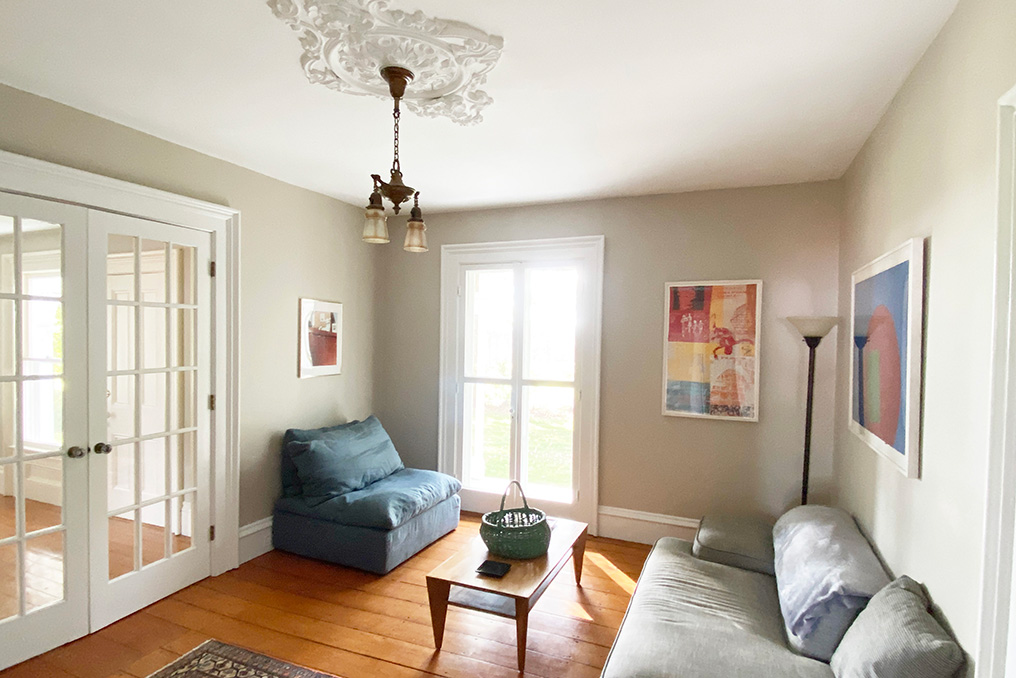 Spacious Country House Rental
8 guests . 4 bedrooms . 5 beds . 3 baths
The Sunburst House is an exceptionally beautiful, spacious country home surrounded by seven picturesque barns and set amidst an expansive lawn and 200 acres of fields and woods. Its panoramic views of an agricultural landscape are outstanding.
While the house, which was built in the 1870s, is fully modernized, attention was paid to retaining its original architectural details. The large rooms are both cozy and inviting and contain a charming mix of contemporary and antique furniture and decorations. Family and friends will enjoy a peaceful vacation here. Learn more about the house on the Description page.
The farmhouse is an ideal spot for the enjoyment of nature. Deer and wild turkeys are frequently sighted in the landscape. Hiking, snow shoeing and cross country skiing are welcome activities. Walking or driving along picturesque country roads leading to and from the Sunburst House is a favorite pastime by visitors as well as residents. The fall foliage is gorgeous, but at all times of the year guests will be treated to spectacular scenery.
The Sunburst House is located in the pastoral area of Buskirk in northeastern Rensselaer County, NY. While private and rural, the house is situated within easy driving distance of the Capital District and Saratoga Springs, NY, Williamstown, MA and Bennington, VT.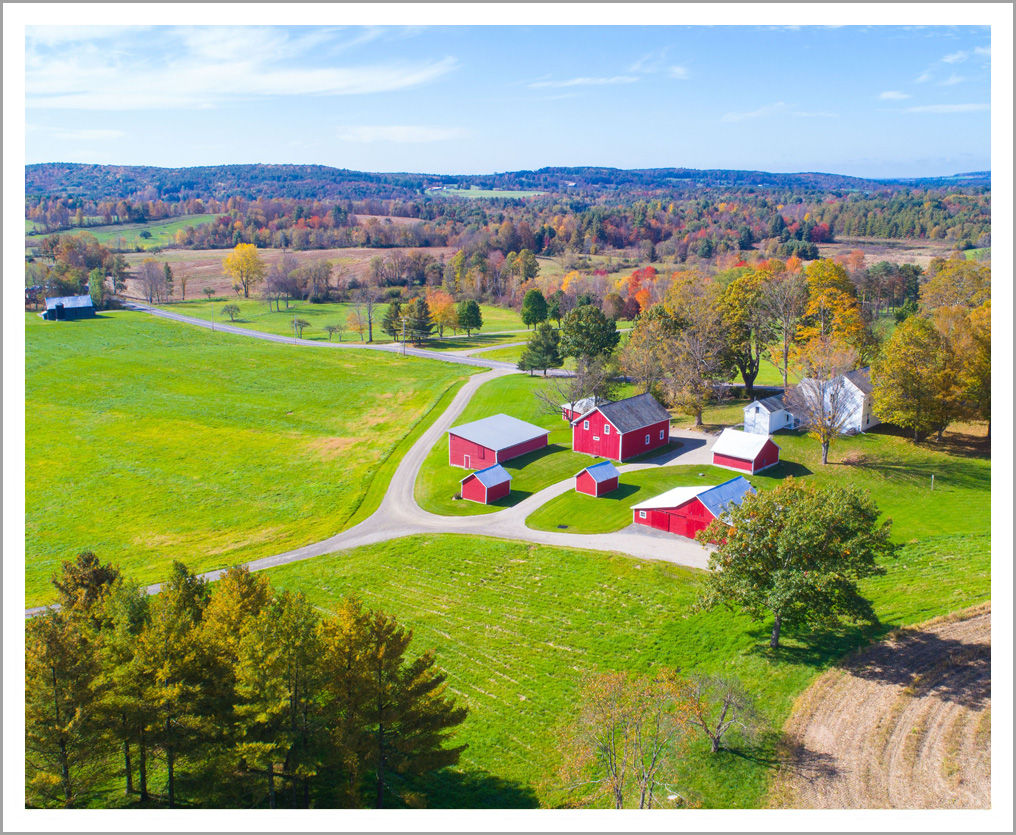 The agricultural landscape in Hoosick has changed little since memorialized in the paintings of renowned folk artist Grandma Moses. This photo is one of many stunning views of the Sunburst House, its barns and surrounding acreage.
"We cannot say enough nice things about the Sunburst Country House and its fantastic host Connie. The house is beautifully renovated and well-appointed, from a kitchen with all the appliances and accessories one could ask for, to the bathrooms with comfy towels and nice toiletries, to the comfortable beds with great sheets. Connie was extraordinarily responsive and helpful too! Would definitely stay here again! A gem of a find!" — Adrian, January 2022
Book a Reservation / Contact the Owner
For booking assistance or questions, call Constance Kheel at 917-533-4141 or send a message.